House Party: Are you tired of throwing the same old boring house parties time after time?
Are you looking for something new and excited to do with your crew? If you answered yes to any of these questions, then it's time to move that house party to a bus.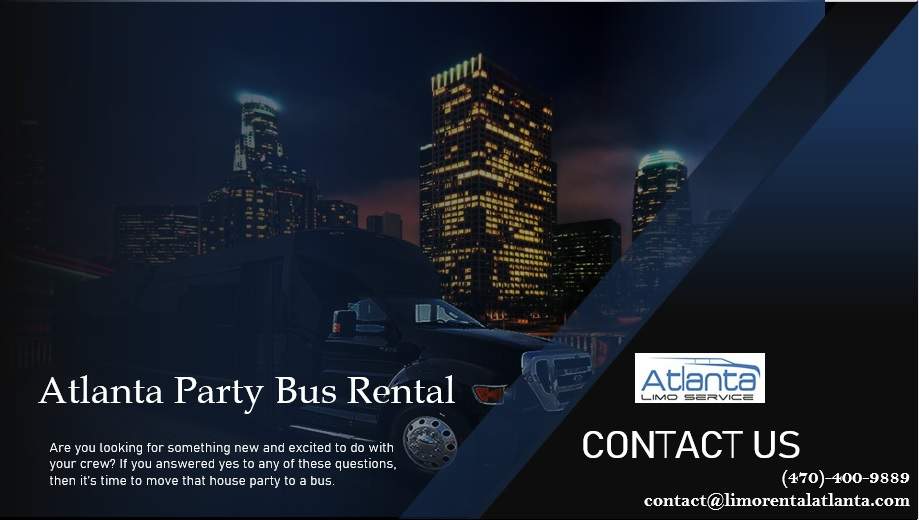 Hiring a Atlanta party bus rental is a great way to have fun while on the move.
No Clean Up Required
Oftentimes, house parties end in the house becoming a disaster zone that the hosts have to deal with in the aftermath. If you don't want to deal with the after party clean up. Then have your House Party on a party bus instead. The bus staff will clean everything for you so long as you pay all of the required fees. Sometimes. If you really made a mess, they'll charge an extra cleaning fee. So make sure you discuss with the staff ahead of time just how wild and crazy you're allowed to be before paying a price.
You Don't Have to Worry About Noise Complaints
On a party bus, you can be as wild and crazy as you want without getting complaints from your neighbors about being loud and obnoxious. Noise complaints can ruin a party faster than anything. So a party bus can save you from having to worry about keeping the volume down. Crank up that radio and dance like you've never danced before.
No Designated Drivers Required
If you request to have everyone dropped off at their individual homes. Then you'll probably have to pay a sum of money depending on how far each location is. But you can be sure that everyone will be safe and sound after the party. There will be no risks for intoxicated drivers or the inconvenience of having to call a buddy up and request that they take your friends home. Worst comes to worst, negotiate with the party goers ahead of time. And get them to pay for their individual drop off fees. So long as they live within the local area. It shouldn't be a problem to request drop off services from the company.
If you're looking for a good, Atlanta based company, then consider Atlanta Limo. They're a limo company that handles party bus rentals in Atlanta. They have affordable rates for great quality service. So make sure to check them out. They have a variety of different rental services including cars, limos, regular buses, charter buses and airport car services, to name a few.  You want to keep your parties fresh and alive.
So rent out a party bus every once in a while. Party buses are great for occasions like bachelor and bachelorette parties, prom after parties. College parties and even just a night out on the town with your friends. You can go bar hopping and hire strippers if you want, but make sure that no extra fee is charged for these services.
(470)-400-9889
contact@limorentalatlanta.com